The birth of an indissoluble Federal Commonwealth: 1st January 1901
Australia became a Federation on 1 January 1901 by enabling provision in the 9 July 1900 enactment of Imperial statute known as the Commonwealth of Australia Constitution Act 1900 (Imp).
The creation of an Australian Federation overlayed an existing group of six Colonies turned States that form the Federation.
By Sydney Criminal Lawyers
On 18 October last year, the Gates Foundation, the World Economic Forum and the John Hopkins Centre for Health Security held a pandemic simulation exercise, with the aim of "educating... Read more
By Sydney Criminal Lawyers
Imagine a reality where people were forced by the authorities to remain in their homes under threat of steep fines, while outside the police patrol the deserted streets, ensuring that... Read more
By Sydney Criminal Lawyers
A number of prominent former Australian judges are calling for a bi-partisan parliamentary oversight committee to ensure adequate scrutiny of Australia's COVID-19 response. A similar body has already been... Read more
Saturday 28th of March 3:27 PM
The Culleton lead judicial review currently before the Royal Courts of Justice UK London, is still under review. Former Senator Rod Culleton successfully filed in the Royal Courts of London... Read more
Wednesday 24th of March 8:27 PM
Movement of people and goods across state borders in Australia is guaranteed by the Constitution. Section 92 of the Commonwealth of Australia Constitution Act 1900 (Imp) says: trade, commerce, and... Read more
Saturday 21st of March 1:55 PM
Australia′s first flag was chosen from a national flag competition held in 1901. Initially started by the Melbourne monthly magazine The Review of Reviews for Australasia, the new Federal Government... Read more
Tuesday 10th of March 7:44 PM
Never has the Australian government talked so much about freedom while doing so much to undermine it. The Australian Government is not authorised to exercise the power of life or death... Read more
Monday 9th of March 8:51 PM
If you've ever had court orders made against you (e.g. bankruptcy) by a magistrate or registrar in a federal court, they are invalid as a registrar and/or magistrate fails... Read more
Sunday 8th of March 9:12 AM
This was written in simple terms to explain how and why the Office of "Queen of Australia" cannot exist at law. In a 1988 Constitutional Commission report it was also... Read more
Saturday 7th of March 7:43 PM
What happens if someone has perpetrated an offence against you but the police or the public prosecutor is not willing to prosecute the offender? Or worse what if you are... Read more
Tuesday 3rd of March 6:44 PM
In the mid 1880's efforts to join the separate Australasian colonies into an Australian Commonwealth Federation increased. The earlier NSW / Australian Ensign was slightly modified and revived for use on... Read more
Monday 2nd of March 3:52 PM
Queen Victoria's Letters Patent, signed on 29 October 1900, established the first Commonwealth office, that of her representative, the Governor-General. The Letters Patent declare the powers of the... Read more
Monday 2nd of March 12:07 PM
When Queen Victoria signed this document on 9 July 1900, the Bill providing for the creation of the Commonwealth of Australia became law, enacting the Commonwealth of Australia Constitution Act... Read more
Sunday 1st of March 09:51 PM
When Great Britain settled Australia, they brought with them their central form of Governance that had operated for centuries. Before Federation, Australia consisted of six Colonies. Turning six Colonies into... Read more
Sunday 1st of March 11:28 AM
The Commonwealth of Australia Constitution Act reminds us that we are a Commonwealth, formed for the common good under English Common Law. We are all in this together. We became... Read more
Great Seal of the Commonwealth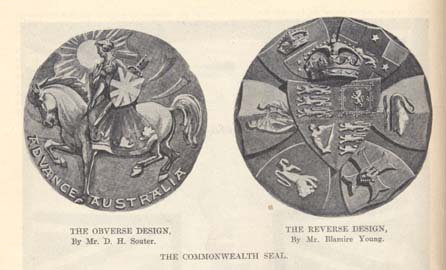 The first ever Great Seal of the Commonwealth of Australia pictured here from the Review of Reviews September 1901. Reverse side was designed by Blamire Young.
The Rising Sun
Commonwealth troops departing for the South African war in 1902 were provided with metal badges with a rising sun motif. In 1904, the rising sun design was developed to produce the famous general service badge for the Australian Army.
Royal Coat of Arms
Royal arms at the front entrance of Old Parliament House
The Annotated Constitution of the Australian Commonwealth by John Quick and Robert Garran (1901)
Constituting a Christian Commonwealth by Augusto Zimmermann
Official Report of the National Australasian Convention Debates Sydney 1891
The Great White Fleet arrives in Sydney 20 August 1908
Great White Fleet to Coral Sea: naval strategy and the development of Australia - United States relations, 1900 - 1945 / Russell Parkin and David Lee.
Commonwealth of Australia Gazette No.8, Friday 30 February 1903
King James Bible Online resource website